The AEPLY trap : "Deux cordages sur fond bleu"
In 2017, we had brought to your attention the dangerous "trap" presented by stenciled lithographs (pochoir) made from Rimbaud's "Illuminations", which are often described as original gouaches  (see our article).
The Aeply "trap" is of a different sort as it can lead to treating a multiple as an original oil on canvas.
Fautrier along with his wife, Jeanine Aeply who was keenly interested in printing techniques, developed from 1949 to 1954 a process which bore the name of his wife. By combining etching (on a lithographic press, colors were layered on in an unusual sequence from the darkest to the lightest) and application of pigments by stencil or screen as well as by hand, paintings could be reproduced with thickness, resulting in "multiples originals", another designation of the Aeply process.
Fernand Léger who heartily endorsed a democratic access to art, agreed to this technique, but just as Braque and Fautrier himself (!!) quickly put an end to this process which was deemed too misleading…
The multiple work of Fernand Léger which is problematic (and frequently on the market presented as an oil on canvas) is "Two Ropes on a Blue Background"  ("Deux cordage sur fond bleu"), signed on the bottom right F. LEGER and dated 1938 above the signature. The size is 21 1/4 inches by 25 1/2 inches. Several hundred copies were made on cardboard (with REPRODUCTION AEPLY marked on the back of the work). We have seen copies run on canvas "to mislead".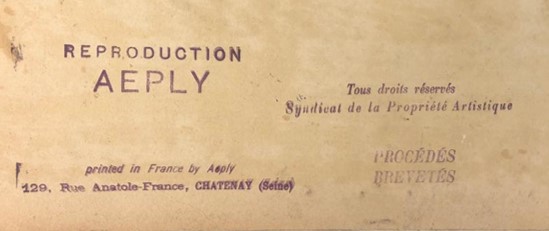 Stamps on the back (Archives of Comité Léger)
Please note that several cases were brought against professionals by people who were misled, with some copies (at least one to our knowledge) accompanied by a certificate of a so called "expert".
The Comité Léger carefully watches the market and contacts auction houses before the sale. Do not hesitate to contact us to bring to our attention a work using this process to assist us in our goal of clarification.
Two copies that we have in our archives :